Organizational structure support service for managers challenging growth and change
RCS is our top-level human resource strategy service that we act as a partner for your executives and management teams that are challenging growth and change. We support a series of management from consulting on building an organizational structure to searching, finding, scouting, assisting interviews, and supporting onboarding for the candidate(s) who can achieve business growth and change.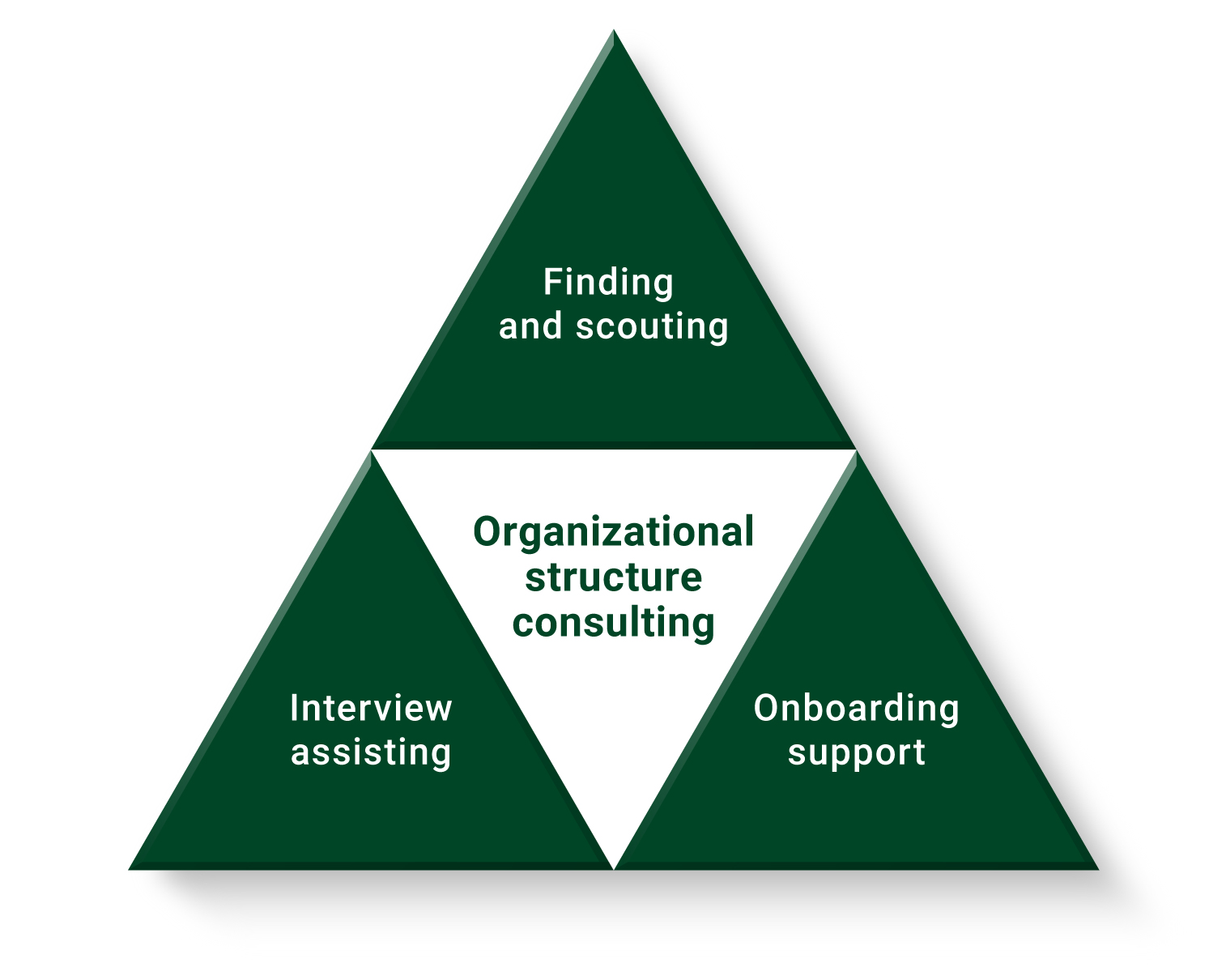 Forming a "dedicated team" for management

As a good consulting partner to the management, we commit ourselves as a team to provide all kinds of support for human resource strategies through regular meetings.
Reaching out to a wide range of candidates through our original research

Our unique research team, formed to collect and analyze a variety of information and data in an integrated manner, provides a customized scouting service to each client.
Supporting after the candidate joins with "onboarding" method

In addition to recruitment support, we provide regular follow-up after joining the candidate. We support your creation of a system that enables the new employee to fully demonstrate his or her original competencies within the company.
Matching the most suitable talents with priority by "RCS Client First"

Our dedicated team for RCS clients always conducts thorough searches for candidates. We will introduce you promising candidates with priority upon finding them.

Even if our definition of ideal candidate profile is vague, they work with us to redefine and clarify it.

Major housing manufacturer

They search for suitable candidates with understanding of our implicit corporate cultural background, so we rarely have experienced that the candidate does not fit with us after joining us.

Major metalworking manufacturer

Other agencies only recommend based on our job postings, but they have a certain understanding of our company as a whole and make suggestions for other positions, we find that the candidate has a good fit with our culture when we meet with him or her.

Major distributor

After a candidate joins the company, they interview him or her and shared with us the room for improvement from a still fresh external perspective. That works better than we expected.

IT start-up

Supported the recruitment of more than half of the management of Japan's largest apparel SPA

At a major apparel manufacturer and retailer, we held monthly meetings with their management as a team to transform their management structure to the next stage at each stage of growth through scouting managers.

Client Company

Major apparel manufacturer and retailer

Open Positions

Positions from executive to leader class

Recruitment Background

The company has selected candidates through its own personal connections, but wanted to utilize new channels to meet a wider range of candidates and proceed with the appointment of successors. They also wanted to pool resources who are interested in the company for the future.

Assumed Remuneration

9.6 to 50 million yen

Target
Requirements

・Age: 30s to 60s
・Personnel with management experience (CEO, CFO, etc.), top-class personnel in each industry.
Adopted RCS for the first external recruitment of management

The company decided to recruit executive candidates from the outside for the first time in the organization whose main employees were working after graduating. Understanding its unique corporate culture, we introduced a large number of external candidates to the company, mainly to the corporate departments. The company successfully promoted several of the candidates to executive positions with our onboarding support. The company eventually employed more than 30 executives, partly as a result of recruitment from our proposals.

Client Company

Major housing manufacturer

Open Positions

A wide range of positions from general managers to executives as well as subsidiary executives

Recruitment Background

The new president of the company decided that it was essential to utilize external resources in order to achieve the future growth of the organization. With an eye on globalization, the company wanted to establish a flexible system for accepting proposed personnel.

Assumed Remuneration

15-25 million yen

Target
Requirements

・Age: 40s to 50s
・The type of person who is willing to adapt flexibly in the organization, gains trust to achieve results, rather than being title-focused.
Client Service